A Sky Full Of Stars For A Roof CD
Released 2019 | HC Productions | HC019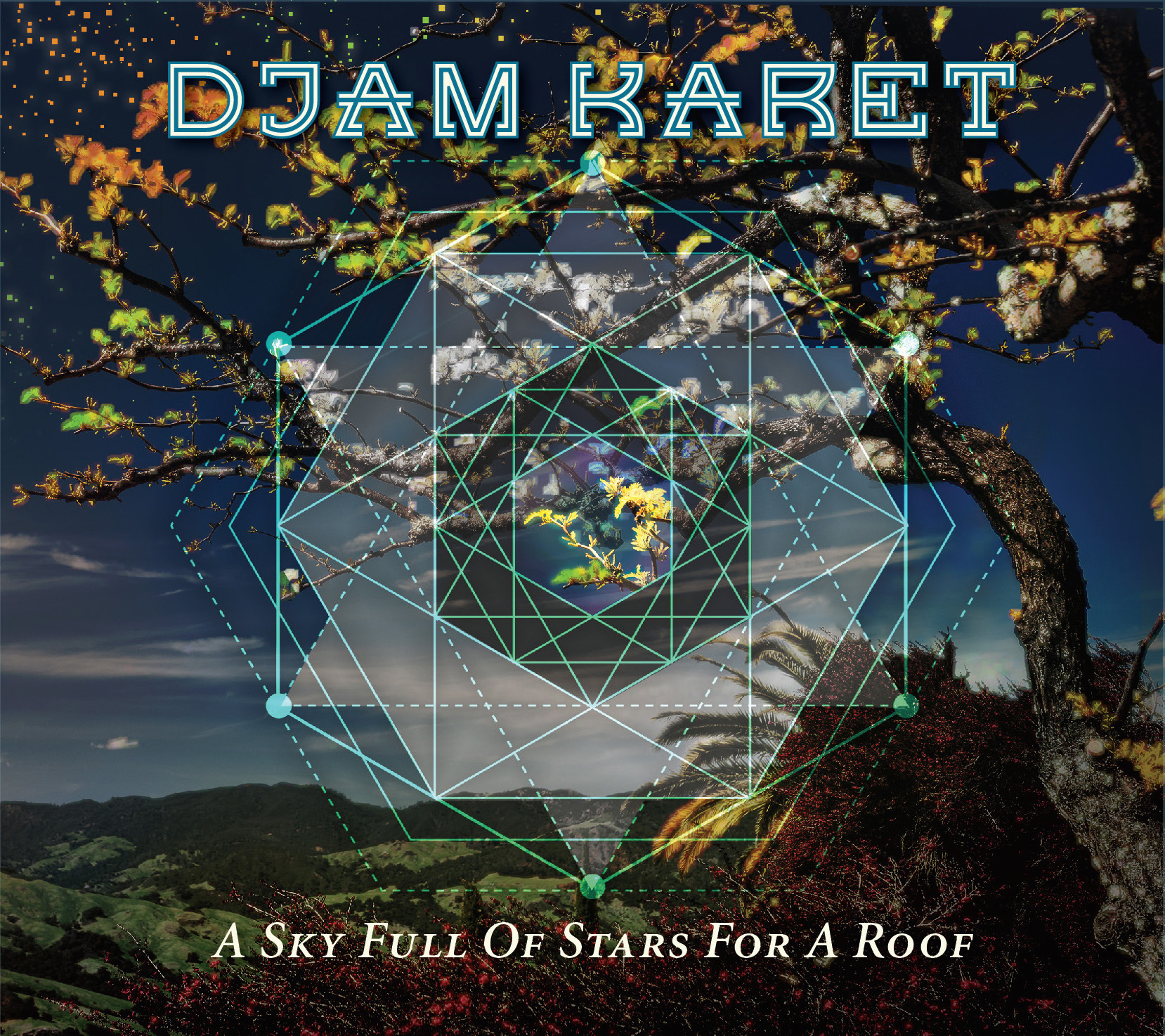 1. Beyond The Frontier (5.49)
2. Long Ride To Eden (5.58)
3. West Coast (5.57)
4. A Sky Full Of Stars For A Roof (11.05)
5. Dust In The Sun (3.00)
6. On The Third Day Arrived The Crow (4.03)
7. Specter Of Twilight (3.27)
8. Night Falls (4.58)
All music composed by Djam Karet
Produced, mixed and mastered by Gayle Ellett
Recorded at Foggy Mountain Studios in Topanga and White Arrow Studios in Claremont, California
Art design by Mike Murray
Drum tech: Sebastian Harris
A Sky Full Of Stars For A Roof
Artists Statement: Chuck Oken, Jr.

First off it must be stated that Gayle Ellett is the main creative force behind this release. Without his complete dedication to the long creative process here and his incredible talent for creating rhythms and melodies over unique electronic landscapes, this body of music would not exist. His drive to tackle this project came deep from within himself and I thank him for that and continuing the musical journey of Djam Karet.

From the mid 80's to the very early 90's, Djam Karet releases were recorded live in whatever small boxes of rehearsal places and studios we could afford. Entire songs were rehearsed to death and then recorded live to tape with all of us playing in the same room and sounds from all of our instruments bleeding into each others tracks. With that sound bleed, also came the bond and blood of the energy of a complete take - a band in the same room reacting to each other in our own musical language. The dual release in 1991 of Burning The Hard City and Suspension & Displacement acknowledged a new time for recording duality where our old methods of recording were used (BTHC) and new studio techniques were discovered (S&D). With Suspension and Displacement, we began overdubs and experimentation with no worries about having to reproduce a song live.

This dual process of recording went to deeper levels through all of our releases including Sonic Celluloid in 2017. For example, The Heavy Soul Sessions in 2010 was completely multi tracked live in the studio, just like the old days, while most of our records from 2000 to 2010 were a mix of totally rehearsed songs and magical experimentations in the studio, and 2013's The Trip consisted of both live improvisations and experiments in the studio.

LAYER ONE: BEYOND THE LONG TWILIGHT
In 2017/2018, Gayle reviewed a whole bunch of electronic pieces I had sent him and he lived with them over time and took x amount of them and combined and edited them into 7 tracks. These electronic pieces were composed of everything but the kitchen sink as I use a large array of both analog and digital keyboards and modular with a healthy dose of looping and processing. Those 7 tracks became the 1st layer of this project and are accurately reflected in Beyond The Long Twilight. Track 8 was brought to the table by Mike Henderson and is a more ambient/sparse remix by myself of the bare tracks you hear on the full release of track 8 on A Night Full Of Stars For a Roof.

LAYER TWO: THE CROWS OF DUST FALL AT NIGHT
Here is where the magic really happened and Gayles energy bought all of the members of Djam Karet and some of his closest friends together to write music around these soundscapes. Hundreds of hours of recording and mixing in Topanga took place as a parade of band members and friends came through Gayle's house. Structures, melodies, acoustic and electronic instruments and layers of composition all added to the original electronic soundscapes. In a Stranger Things World, this layer exists BOTH with and without the electronic space it was composed for. Without Layer One, there is a sense of SPACE in The Crows Of Dust Fall At Night and a world all of its own.

A NIGHT FULL OF STARS FOR A ROOF
Except for Track 8, the release is a combination of the 2 layers. You could start the 2 CD's (Layer 1 & 2) on 2 separate players and Tracks 1 - 7 should line up to be the release. This was discovered during some very long artistic discussions between Gayle and myself about this project. One thing led to another and then we were doing a mix of the release without the electronics and then we did a mix of the release with just the electronics and by doing that the entire scope and vision of this project appeared. Two layer worlds combine in A Night Full Of Stars For A Roof bringing two very distinct pieces of music together.

WHAT DO I HEAR ON A NIGHT FULL OF STARS FOR A ROOF?
Our 19th Release is an album with some of our most melodic work yet while also combining acoustic instruments and electronic synthesizers into a very new sound. Our lifetime collective influences shine through on this release so a special thanks to the work of these artists: Robert Fripp, Pat Metheny & Lyle Mays, Steve Tibbets, Mark Isham & Steve Roach. A Night Full of Stars For a Roof is also infected with a sense of place and rhythm that is West Coast California with a maturity born through the hours of time into a project lead by the vision of Gayle Ellett and the soul of all of the members of the extended DK family.

As always - thank you for your time, head, and ears. -- Chuck Oken, Jr.